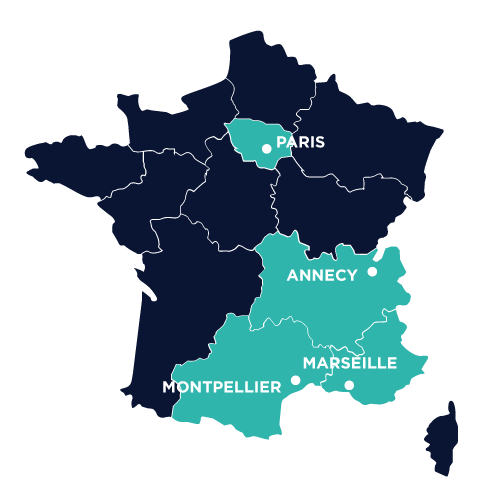 WHO ARE WE ?
An agency and 3 centers: SEO – SEA – SMA
Digimood is an agency that ensures your visibility on all fronts. With 4 offices in France, our experts in Montpellier, Paris, Marseille and Annecy offer you services in natural referencing, paid referencing but also on the different social networks :
Facebook
Linkedin
Youtube
Pinterest
Instagram
Tiktok
Within these 4 offices, we aim to elaborate an efficient digital marketing strategy in order to get you a great positioning ahead of your competitors on the web.
OFFICE IN MARSEILLE
Your agency in Provence-Alpes-Côte d'Azur
Digimood is a specialized digital marketing agency which accompanies many companies in the growth of their visibility on search engines.



Marseille Agency – +33 4 91 65 62 63
32 bis avenue André Roussin
13016 Marseille
OFFICE IN PARIS
Your agency in Ile-de-France
Our SEO and PPC consultants and project managers support many companies in the Parisian region, large or small companies looking for a digital marketing accompaniment in Paris and in the north of France.

Paris Agency – +33 1 71 49 67 26
62 rue Pelleport
75020 Paris 
OFFICE IN MONTPELLIER
Your agency in Occitanie
Montpellier is a regional metropolis that enables us to reinforce our positioning on the Mediterranean and south-west region to companies that are looking for Adwords and SEO solutions.


Montpellier Agency – +33 4 91 65 62 63
Stratégie Concept, 1300 Av. Albert Einstein Bât 1 ; 3ème étage
34 000 Montpellier
OFFICE IN ANNECY
Your agency in Rhône-Alpes
Our agency in Annecy offers a closer relationship to our clients in Haute-Savoie, Lyon, Geneva and Grenoble.


Annecy Agency – +33 6 73 72 49 48
3 Esplanade Augustin Aussedat
74960 Annecy
Founded in Marseille in 2007, our media agency specialized in digital channels became a leader on several specific markets such as natural referencing, Adwords advertising, Social Ads, Analytics and Content Marketing. Our strength ? A great team, passionate about digital marketing, with consultants and senior engineers expert in their field who bring together young talents willing to take up all challenges.
We accompany clients throughout France in the strategy of presence on digital media, and we work with large and small companies with a physical presence in Marseille, Montpellier, Paris, and a strong involvement all over France. Calling on the Google Ads and SEO agency Digimood means relying on a dynamic and reputable digital media agency that is able to take up any challenge! Our double proficiency also enables us to appear as an advertising agency for Facebook, YouTube Ads, Twitter ads, Instagram or LinkedIn.
Creation in 2007

At that time, Digimood was named Sidièse Méditerranée, also known as SidieseMed. After 6 years of development, the society is renamed Digimood in 2013 to affirm its expertise in digital communication and digital marketing.

200 clients

Even though we developed a strong expertise in the fields of bank insurance, tourism and cyber commerce, Digimood's skills can be applied to any brand willing to boost its digital marketing strategy.

95% of satisfied clients

We have collaborated with our clients for 3, 4 or 5 years for most of them. We perpetually reassess ourselves to keep supporting them efficiently.

Management of 12 million € per year

All levers taken together, 12 million euros are invested for our clients on the online media. We ensure to deliver the best ROI.
Result
We know you have objectives to achieve. From the beginning, and all along the optimization of online actions, we do everything we can to achieve them and even to surpass them.
Expertise
Our team consists of talented people that are skillful in their job (leader of the SEO community, Google Ads certified experts, etc.) and we know how to connect this expertise to deliver the best global strategy.
Measurability
All the online actions that we take, we permanently carry them out according to the ROI and to the generated conversion volume.
Creativity
No, the last fashionable internet phenomenon may not be the solution for you. The digital marketing techniques we use will enable us to reach the best results, and we will deploy them in the cleverest way possible.
Pragmatism
We do not promise you the moon. We take into account your starting issues and we will give the successive digital impetus to make you progress.
Transparency
Each assessment is personalized according to your success indicators, with clear, precise and useful data to learn lessons to improve the next operations even more.